BORING STUFF, PART 1
I got into Albany, New York about 9:15 on Saturday. I went to my hotel, checked in, dropped off my carry-on, and got ready for what I understood was a one hour drive to Bethel. The ticket showed that the show was to start at 11:30, so I figured I'd be there in plenty of time. The plan was to meet up with Steve Louis (the owner of Sour Records who gave me the ticket) at 12:30. Lou Reed was scheduled to hit the stage at 1:00, so that would give us plenty of time to get together.
I left the hotel around 10:30. I had found directions to the concert site on the web, so I was following those. When I didn't get to the first exit until one hour into the drive, I knew something wasn't right. On the radio, I found a classic rock station that was the "official radio station" of the concert, so I stayed tuned.
Turns out the show opened at 9:00 AM, with the first act, Melanie, hitting the stage at 10:00. The second act was Donovan, and the third act was Richie Havens. About 12:30, I was on small back roads, but based on the directions I had, I knew I wasn't close yet. Shit. I'm s'posed to meet Steve any minute now, and Lou's on in 30 minutes. If I came all this way and missed any of the two acts I meant to see, I was gonna be pissed.
One of the DJs mentioned that they were going to introduce Lou Reed, and that he'd be on "real soon". Shit. I'm still nowhere close. Then one of the other DJs asked when Reed was supposed to hit the stage, and he said "around 1:30". YES! Just got a half-hour reprieve. Time to speed up.
Around 1:15, I knew I was getting close. I was seeing signs directing me to parking, so I didn't bother checking my notes from the web anymore. I'll just follow the signs. Around 1:30 I was entering the parking lot and parked almost immediately after getting in.
Gotta hustle. Lou's on any minute now. I see a gap in the trees in the far right corner of the parking lot where people are coming in and out. Cool. That's the exit. I walk straight for it, and pretty damn fast. When I get to the break in the trees, I see … another parking lot. Shit. This is getting far longer. Turns out I go through a few more parking lots like this. Frankly, it starts getting a little funny at this point, like a house of mirrors with no exit.
In the background, I hear the faint strains of Hendrix's arrangement of "The Star-Spangled Banner". Cool. Must be a tape, so Lou can't be on yet. Step it up. I finally get to the gate about 1:50. I can hear singing, but it definitely isn't Lou. Cool. I made it. My legs are achin' (from getting up at 4:30 and the long drive), but I made it.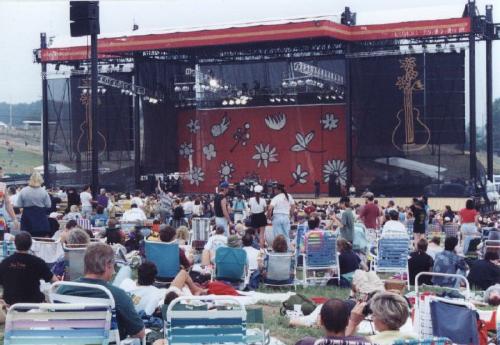 I go to the end of the T-shirt booths where Steve and I planned to meet up, but it's way past 12:30, so I figured I missed him. Over the hill, I can see the stage. It's a big festival style stage with big mesh speaker covers on each side with the "Day In The Garden" logo on each side. On the stage, Richie Havens is finishing up the end of an a cappella version of "On The Turning Away". Very nice.
I head over to a food tent to grab something to eat. There's a booth selling Philly steaks and hamburgers. Cool. A Philly sounds good. I haven't eaten a thing since 5:00 AM, so I'm ready for something big. I'm waiting, and the line ain't moving. Come on people, I can see they're setting up Reed's equipment. Move it, move it. The lady behind the counter asks "anyone want a hamburger?" No reaction from anyone … except me. I grab it, pay and go. Turns out everyone was waiting for a Philly and they were way behind on making 'em. I'll take anything at this point. I'm hungry, and I'm ready for the show. I go grab a couple of bottles of water and get set about 100 feet from the stage.
---
COOL STUFF
At 2:05, over an hour late (thank goodness), Lou Reed and band hit the stage.
LOU REED
Band:
Lou Reed - guitar, vocals
Mike Rathke - guitar
Fernando Saunders - bass, vocals
Tony "Thunder" Smith - drums, vocals
Main Set:
Dorita


A perfect opener. I'm sitting out on a hill, cloudy day, relaxing amongst a lot of people done up in hippie garb (and a lot that weren't), and Lou and band, dressed in all black, come out and open with a blast of pure power guitar. Wonderful. Instead of going into "What's Good", Lou and band kick into …

Sweet Jane


… and the crowd goes nuts. Great version.

Egg Cream
Set The Twilight Reeling
Vicious
Perfect Day
Street Hassle


This was a big surprise. I didn't realize Lou even played "Street Hassle" any more. Another great version.

HookyWooky
Kicks
Hang On To Your Emotions
Into The Divine
Future Farmers Of America


These last two are songs from the Broadway play ("Time Rocker") that Lou scored.

New Sensations
Satellite Of Love


Another very warmly received song.

Dirty Blvd.


I was really hoping to hear this one. Heavy irony. We're sitting in an open meadow on a nice day, and Lou's spinning bleak tales of urban blight.

Riptide
The Original Wrapper
Encore:
Pale Blue Eyes


Nice suprise encore.
At a lot of points in the show, the crowd's chanting "Looooooooouuuuu". After this one, the crowd starts up the chant again, and Lou starts "conducting" the crowd, pointing to the left side then the right then so on. Hell of a set. I'm glad I made it. Reed and the band sounded great. Lou left about 3:45.
---
JONI MITCHELL
Next up at 4:15 was Joni Mitchell, who I wasn't that familiar with.
Band:
Joni Mitchell - vocals and guitar
Brian Blade - drums
Greg Liesz - pedal steel guitar and lead guitar
Larry Klein - bass
Mark Isham - trumpet
Main Set:
Hejira
Comes Love
Face Lift
Summertime
The Crazy Cries of Love
No Apologies
Sex Kills
The Magdalene Laundries
Black Crow
Moon at the Window
Slouching Towards Bethlehem
Just Like This Train
Big Yellow Taxi
Trouble Man
To be honest, I wasn't that impressed. To be fair, the only song I knew was "Big Yellow Taxi", and I did enjoy that one. The rest seemed like pretty, flowing jazz. Maybe after Lou's overload this just wasn't what I was looking for. I'll tell ya though, the crowd loved her. A lot of people in the crowd were holding up signs saying "We love you, Joni", and similar sentiments.
Joni comes out for her encore (by herself) and talks about missing the first show 29 years ago. She said there was one song she probably had to play:
Encore:
Yeah, it had to be done. It was nice to hear, although I confess I missed Neil Young's guitar and the harmonies from the CSNY cover. Joni was done about 5:30.
After Joni, a large portion of the crowd moved out and away from the stage. Perfect! I moved in close. Between the sound booth and the stage, there was a corridor down the center set off by 4-foot high barriers. I moved down about 25 feet from the stage and leaned against the barrier. Perfect. If I lean a touch to the right, I'm looking straight down the middle.
---
PETE TOWNSHEND
Next to me, a twenty-something girl smoking a joint meets up with two of her thirty-something friends. She asks "So, what's the deal with this Pete Townshend guy? Who is he?" What? I was torn between thinking "get the heck out of here then" and "listen up, you'll learn something". Her friend looked at her like she was from Mars and said "Pete Townshend? He was in The Who. He's a great songwriter, a real artist". Recognition kicks in now. OK she can stay. The guy who answered the question then turns to one of the security people in that central corridor and asks "So, who's on after Pete Townshend?" What? The security guy looks at him like he was from Mars and half-laughing, said "After Pete Townshend? No-one. You go home." About 6:20, Pete takes the stage …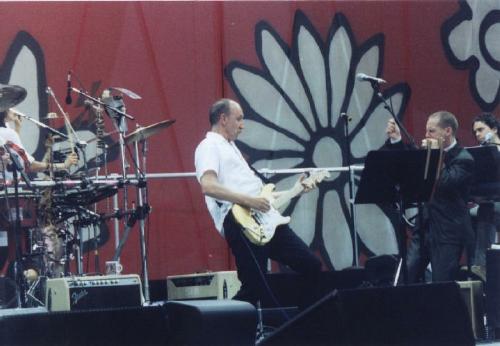 Band:
Pete Townshend - guitar, vocals
Tracey Langran - guitar, vocals
Peter Hope-Evans - harmonica, jaw harp
Jon Carin - keyboards, vocals
Chucho Merchan - bass
Jodi Linscott - percussion
Main Set:
On The Road Again


Pete came out in a black leather motorcycle jacket to huge applause and chants of "Pete, Pete, Pete". He turns around to reveal a giant peace sign in rhinestones on the back. Pete and the band started out with the riff to this one, and I recognized it immediately, but I couldn't place it. Very cool idea. Yes, this is the Canned Heat song. Way cool.

A Little Is Enough
Save It For Later


Introduced as one of Pete's favorite songs to play live. A very cool, long version. The band just jammed at the end of the song. Great, great version.

Drowned
Anyway, Anyhow, Anywhere


Pete introduced this as "the second Who single", and I thought "Anyway, Anyhow, Anywhere"? I can't picture it. Too weird a choice. Well, Pete and the band did a radical rearrangement of the song. Absolutely killer. Occasionally, Pete would kick into some slashing guitar around the chorus, and the verses were laid back and cool. I need a copy of this! Near the end, Pete gave me a scare. He kept calling out "Thank you!" and "Take care!" near the end. I thought "This is the closer? After 40 minutes Pete's done? Shit." Fortunately, I was wrong.

You Better You Bet


Introduced as his "current favorite Who song".

Behind Blue Eyes


Before "Behind Blue Eyes", Pete talked a lot about coming back to Woodstock. He said if he had been asked even last year, he might have passed. He also talked about Abbie Hoffman describing Abbie and himself as well-meaning but making mistakes. He regretted never meeting Hoffman afterwards, and dedicated the song to him.

I Am An Animal


Before this one, people were chanting for different songs. One guy behind me kept yelling "Tommy, Tommy, Tommy, Tommy …" Idiot. Pete says "I'll do some nursery songs later. This is an adult song."

Now & Then

(paraphrased): "My last proper CD was

Psychoderelict

, which bombed. But, I can write opera … see?" Jon Carin plays a suitably dramatic chord or two and Pete goes into some wonderfully bad fake opera singing. "That was much better at rehearsal!"
Going Up The Country - w/Taj Mahal on guitar


Pete introduces his special guest, blues guitarist Taj Mahal. Pete introduces "another Canned Heat song", then he hears something said by a band member and says "isn't it Canned Heat? Who wrote this?" He goes up to Taj, and busts out laughing. Pete: "

He

wrote it." I checked later just to confirm that it was a joke. It was: Canned Heat did indeed play and write the original. Good cover.

Eyesight To The Blind - w/Taj Mahal on guitar


Taj plays more guitar on this one, adding a nice bluesy feel.

Heart To Hang Onto


Introduced as "one of the best songs I've written, but it's buried on

Rough Mix

".

North Country Girl
Let My Love Open The Door
The Kids Are Alright


Another wild, radical rearrangement like "Anyway, Anyhow, Anywhere" was, and just as impressive.

The Acid Queen - w/Tracey Langran on lead vocals

Pete introduces Tracey Langran. She was a dance captain and assistant choreographer for some of the

Tommy

plays. Pete heard her sing, and brought her along on this "tour" (a 3-show tour). Jon Carin and Jodi Linscott worked up an arrangement of "Acid Queen" (although it didn't seem

that

different) that Pete asked her to sing lead vocals on. Tracey's background vocals on other songs were so-so, but her lead on "Acid Queen" was great. Pete also hints that Tracey's arranged a surprise for later.

Won't Get Fooled Again


Pete introduces the band, expresses his pleasure at being here, and just says "This is 'Won't Get Fooled Again'". Little different arrangement than his usual solo version. Switches to electric half way through, and absolutely

tears

through the second half of the song. He moves out to center stage, past the monitors and just lets rip. When the song ends, he kicks it back into gear with the little coda that The Who did on their '80s tours. Great, great version. Afterwards, the band leaves the stage to roars of applause. Pete and co. come back on right away.
Encore:
Magic Bus


Lots of interplay with the band on the "too much!" part of the song.

See Me, Feel Me - w/The Soul Saving Station


This was the surprise. A 29 member gospel choir (The Soul Saving Station) fills out the back of the stage. Pete introduces this one by saying "Sun goes down … last time we did this here the sun came up." The choir was spectacular on this one. Pete was tearing up the electric guitar, and the choir harmonies were magnificent. A spectacular finale. It's 8:45. Pete did a nearly 2½ hour set.
Time to head out.
---
BORING STUFF, PART 2
Normally, when I'm at a show by myself, I tend to hustle my way out of the facility at top speed so that I can get a jump on traffic. This time, I stopped at the top of the hill and just kinda looked around for a minute to take it all in.
There was a band playing at the second stage, so a little of the crowd was hanging back. I got movin' and worked my way to my car. On the way, a thought dawned on me: As I got close to the site, I started paying attention to the posted signs rather than my directions. I also know the end route I took was slightly different than the directions listed. Shit. It's well after 9:00, and I've got a three-hour drive and a 5:00 AM wake-up call coming.
Heading out, I retraced my steps mainly by following the bulk of the traffic. As I got further, traffic thinned, but one pickup truck seemed to be taking the route I needed. As I could, I checked my notes, and it looked like he was heading back towards Albany. Cool. We'll follow this guy. The only problem was that he was doing 45 MPH around twisty, unlit, tree-lined roads. Yeah, I kept up. The first real surprise hit when it dawned on me that I hadn't made a turn that corresponded with my instructions. Shit. I should be on NY52 heading north until I pick up NY55 heading east. Where the heck am I? I keep moving anyway, and I finally see a highway sign. I'm on NY55 heading north. OK. I'm not on the road I thought, but I am on NY55, and north is the general direction I want to go, so if I'm wrong, I'm not totally fucked.
I eventually lose sight of the truck, so I'm on my own. I'm still on NY55 north, so I'm staying with it. After about 40 minutes, I see a sign for Liberty, NY that I remember passing on the way in. This is good. With any luck, I can figure out how to get out of Liberty the way I came in originally. Turns out it wasn't that tough. Somehow, I was on exactly the right road. I don't know how, but I hit Liberty at the same intersection I saw on the way in. Easy sailing from there home.
Back to the hotel. It's about 12:30, and I'm dead tired. The only thing I really noticed at this point was that my $109-a-night hotel room was, to quote Pete Townshend from the numerous Fillmore East '68 bootlegs, a "pisshole". The floor squeaked everywhere. I went to get a plastic glass full of water to take a Zantac, and when I lifted it out from under the tap, I flooded the vanity. Why? There was a giant hole in the bottom of the cup. Also, the toilet wouldn't flush. At all. I got curious and looked in the tank. The assembly was cracked an laying on it's side. Lovely. I fix it up enough to flush and go to bed.
Next day worked out pretty much as I'd hoped. I got the heck out of the hotel ASAP, got checked in at the airport on time, and I was home by 10:30 AM Sunday.
---
FINALE
OK. Parts of the day were a pain (the drive, the early mornings, and the shitty hotel room), but the concert was absolutely worth it. Lou was amazing, and Pete was better than even I expected. Now I just need some bootlegs … come on people, I saw microphones in the crowd and they had big TV cameras roaming the stage …
---
IMAGE CREDITS
NOTE: The photographs used in this review were used by permission of doctorjimmy@hotmail.com. Copies of these photographs (plus a bunch more) and were available for sale at Dr. Jimmy's Home Page or by writing to doctorjimmy@hotmail.com. The homepage is down nowadays, so I'm not sure if that email address is current either.